Design adapted from:http://www.subtleenergies.com/ormus/research/Vortrap.htm
Vortex Trap
All magnetic traps rely somewhat on vortex effects but this particular trap uses a vortex a bit more actively. The vortex trap uses something called the "vortex tube phenomenon".
Following is a description of the vortex tube phenomenon from the Vortec web site at:
"Vortex Tube Phenomenon

The vortex tube was discovered in 1930 by French physicist Georges Ranque. Vortec was the first company to develop this phenomenon into practical, effective cooling solutions for industrial appliacations. Here's how it works.

Fluid that rotates about an axis -- like a tornado -- is called a vortex. A vortex tube creates a vortex from compressed air and separates it into two air streams -- one hot and one cold. Compressed air enters a cylindrical generator which is proportionately larger than the hot (long) tube where it causes the air to rotate. Then, the rotating air is forced down the inner walls of the hot tube at speeds reaching 1,000,000 rpm. At the end of the hot tube, a small portion of this air exits through a needle valve as hot air exhaust. The remaining air is forced back through the center of the incoming air stream at a slower speed. The heat in the slower moving air is transferred to the faster moving incoming air. This super-cooled air flows through the center of the generator and exits through the cold air exhaust port."
Vortex tubes can also be used to separate oil from water. When oil and water are spun together in a vortex tube the water, being heavier tends to follow the path of the hot air in the example cited above and the oil being lighter follows the cold air path and exits through the cold air exhaust port.

A magnetic ORMUS trap separates the portion of water which is superconducting ORMUS material from that portion which is just plain water. In the example above, the water would follow the hot air path and the ORMUS water would follow the cold air path. This effect is induced by spinning the water in a tube which has magnetic tape or other magnetic structures attached to it. Here is a vortex trap made of transparent acrylic with the inner vortex clearly visible: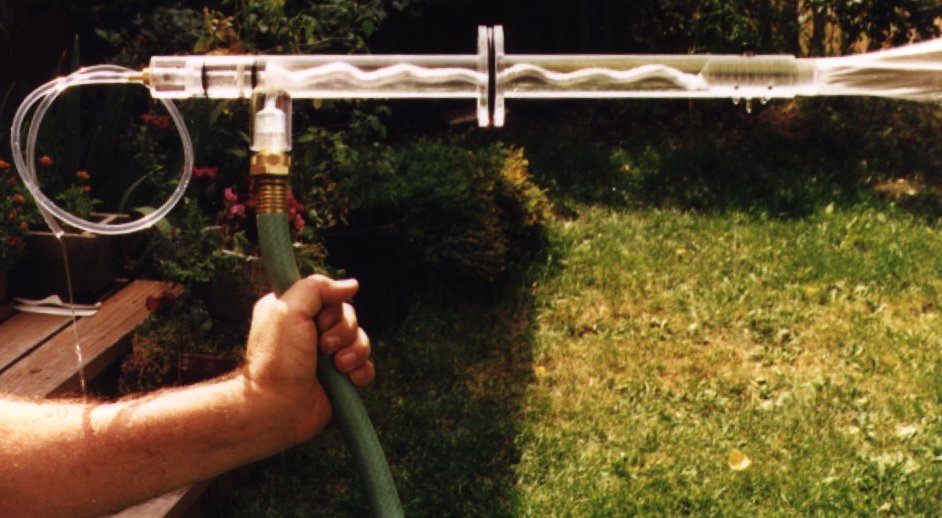 The materials used to make a non-transparent PVC version of this trap cost less than $20. They are as follows:

 
Main Vortrap parts
18 inches of 1" PVC pipe (sched. 40)
1 - 1" Tee with the 1" PVC fittings in line and a half inch female pipe thread at right angle.
1 - close PVC 1/2" pipe nipple
1 - 1" PVC to 1/2" pipe reducer
1 - 1" PVC pipe coupler
2 - nylon reducers which go from 1/2" male pipe thread to 1/4" female pipe thread
1 - brass adaptor which goes from 1/4" male pipe thread to 1/8" compression fitting
2" of 1" od. Plastic rod
3 long stainless steel set screws.
2 feet of 1/8" polyethylene tubing with brass insert for compression fitting
2 feet of self adhesive magnetic tape
6 - 3/4" discs of polypropylene oil spill absorbing fabric
Teflon pipe tape
PVC cement
1 - 1/2" female pipe to female hose connector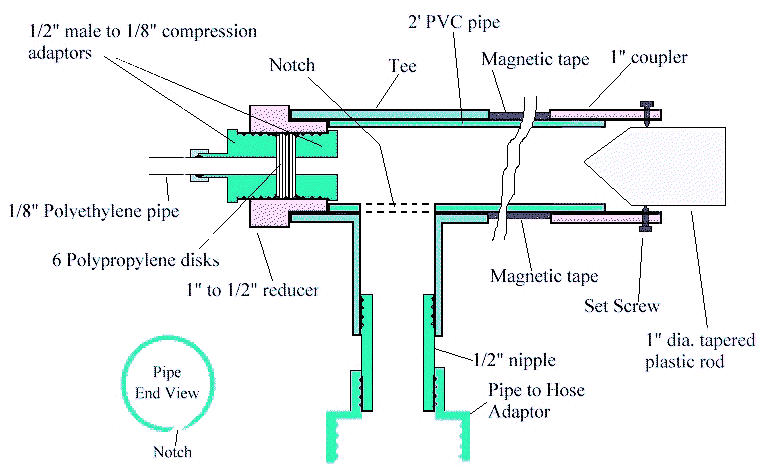 Cross Section View of Vortex Trap (Not Drawn to Scale) 
  Updates to follow.